My experience: Laila Birznieks
Hi, my name is Laila Birznieks. I am from San Francisco in the United States although my family is from Latvia. I studied a masters of arts program in Intercultural Communication at Utrecht University from August 2019-August 2020. Now I work in public relations back in San Francisco/Silicon Valley.
I came to Utrecht because I Googled "communication master's degrees" and Utrecht University popped up. It seemed like a good fit for what I wanted to study and where I wanted to live.
I was in Utrecht for just about 1 year exactly and it was wonderful! What a great experience I had. I am so thankful I was able to meet the most amazing people and learn so much in my studies and through the people I met.
I found out about Rooted/CU through IFES. I knew that IFES was a great resource for getting connected to Christians around the world and had previously used IFES to find other Christian in my adventures through Australia and Latvia. I was connected with a United States' IFES chapter in my bachelor's program and knew that I had to use this to find other Christians in the Netherlands.
My time with Rooted was particularly impactful because I was fortunate enough to live in the Rooted house. The people I lived with were so diverse in thought and lived experience but so similar in their love for Christ and His kingdom. I loved meeting other people from other countries-hearing their stories, how the Lord has been working in their lives, what brings them joy, and how they work through hardships. The friendships I made in the Rooted house are life-long. My favorite activities were our Tuesday night dinners. We always had a fun time doing things together.
I also enjoyed meeting other international Christians through CU! I loved eating dinner together every week and meeting so many different people. It seemed that there were always new people to meet and new stories to hear. Even as a quarter of the year was on zoom I still felt as though we were able to connect well and were able to engage in intentional conversation. My favorite activities at CU were the excursions- we went to Rotterdam and Gouda together (among other places).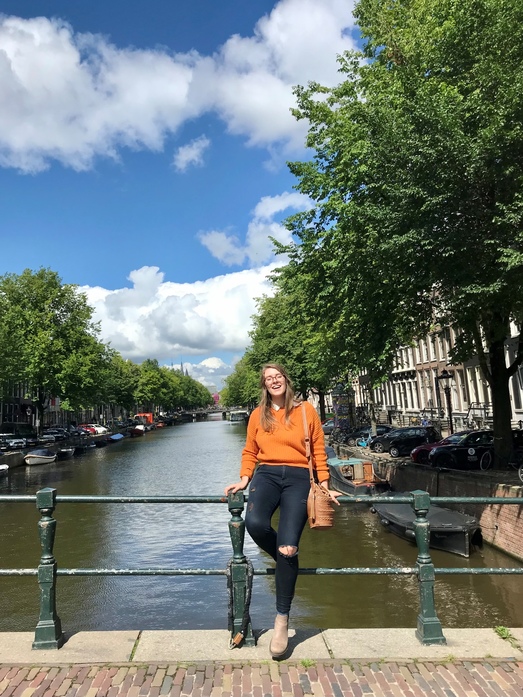 The weirdest and best things about the Netherlands
The weirdest thing about the Netherlands is how everything is so humble, realistic, no-nonsense, and trim. It is not what I am used to in my own affluent and extravagant country of the United States. A good example would be Christmas decorations—in the Netherlands, this looks like one single garland in the entire home, and in the United States Christmas decorations overflow every nook and cranny of the home.
My favorite thing is that because it is so straightforward, so direct- I feel more comfortable approaching people and talking to them because know that they will respond and be intentional in conversations.
I am not sure if there is anything I would have liked to know before I came to Utrecht. I think one of the joys about moving somewhere is learning the hard way how to do something. It adds to your feeling of accomplishment and makes for better stories.
What I'm thankful for from my time in the Netherlands
There are two particular things that come to mind when thinking about what I'm thankful for from my time in the Netherlands. The first is that I was affirmed of my journey in this world—how the Lord has guided my paths so far and He is continuing to guide my life. This has particularly been made clear in my studies and the professors I have had at Utrecht University.
The second is this idea that it is a choice to love people and when we choose to love people, as God has loved us, I have learned that it blesses us and the people around us. My time in Utrecht shows the power of God's love in creating and maintaining friendships and serving our communities. We are constantly in situations where we can either engage with people or not and when we do choose to love others—in the extra few minutes, it takes to ask people how they are doing or to comfort someone in need, etc. the beautiful relationships that emerge are so much better than whatever we expect.
Advice to (new) international students in Utrecht
For students living in Utrecht now I would say there are a few housekeeping rules that you should remember as you leave the city. I forgot to do a few things (like de-register from the municipality and cancel my OV-card) and I have run into much-unneeded stress.
To students who are planning to come to Utrecht I would say to get involved in as much as you can. It is a great way to meet people and do things you otherwise would not have done.
I would also say to try to learn Dutch. It is very helpful in meeting people and engaging with the country.